4 August 2022
Building the right customer-vendor relationship is vital for successful project completion. In the world of custom software development, each pricing model has its pros and cons, both for the customer and the contractor.
The Time and Material model is a widespread form of financial collaboration that works perfectly in many common scenarios — from IT outstaffing to scaling already existing products. The Rocketech analysts summed up what you need to know about our approach and how you can benefit from this contract type.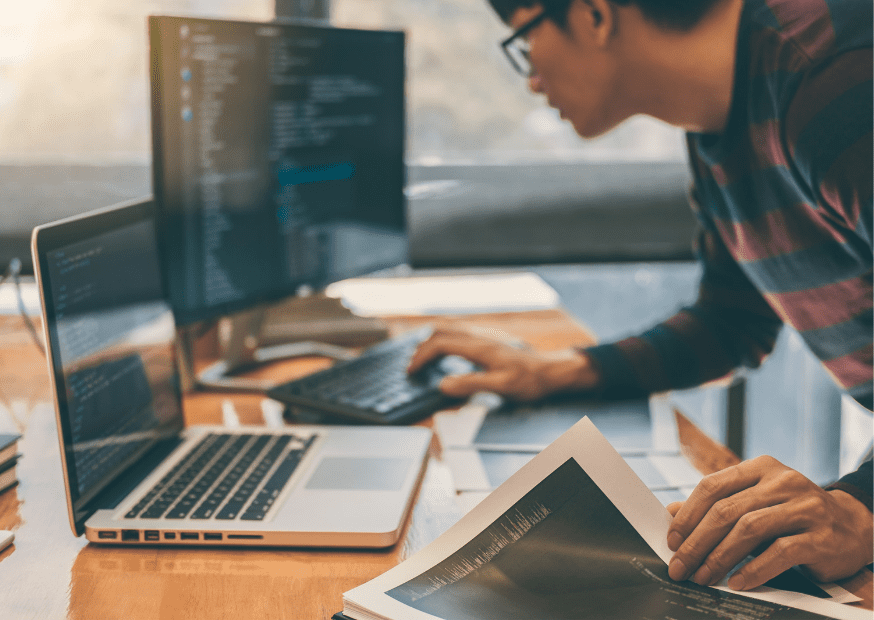 What Is T&M?
Most often, the Time and Material (T&M) pricing model is described as IT outstaffing and team augmentation. It means the client company already has a team and tech documentation and needs a professional or technical boost.
The Time and Material model means paying for the result based on labour cost. The customer doesn't pay for the amount of work but hours spent by the contractor's team on software development and implementation. T&M is an effective starting point for projects with too much uncertainty.
What is a Time and Material contract? The Rocketech approach to the T&M pricing is a secure alternative to hiring freelancers. We help our clients to cover their HR gaps by providing access to highly skilled and experienced professionals with relevant expertise. Besides, we provide maximum transparency: we agree on a fixed number of hours before the project start. While knowing what they are paying for, the clients also distribute the workload according to their management process.
By signing a Time and Material contract, our clients get a reliable HR partner who takes over the entire recruitment process: we find and hire developers, replace them if needed and assemble whole teams in a short time.
When Does T&M Work Best?
Over years, we have patterned the most common scenarios according to the clients' niches, the scope of work, or the project type.
Scenario #1
Challenge: A founder already has a team missing one or two developers. The startup cannot solve this task for different reasons, from a lack of resources to not having an HR department and recruitment processes.
Solution: We leverage our well-established recruiting and onboarding processes to find the best candidate with relevant expertise. While we are responsible for the HR side of the contract, the client has total management control over the project and the tasks assigned to the new team member.
Scenario #2
Challenge: A founder has a product idea of any size but a limited budget and no development experience. The task is to "start small" with a simple development project helping them test the first hypotheses. 
Solution: We help the client to find a versatile professional to start the project slowly and steadily.
Approximate calculations: With a $30K budget, a client will have less than 2 months of Dedicated Team services. On the other hand, the T&M contract will guarantee 4 to 5 months of development. Moreover, the T&M pricing provides maximum flexibility in the case of frequently changing requirements.
Scenario #3
Challenge: A client company already has an almost finished product — just a few small features are yet to be polished. However, the client couldn't calculate the unit economics or was late to raise a round of financing. It makes the project unprofitable in its current state.
Solution: The client can revise the team structure and keep 1⁠–⁠2 developers to lower the development cost and reach the goal with a smaller budget and at a slower pace.
Scenario #4
Challenge: A client has extended documentation and an experienced product owner (PO) who can define tasks and formulate technical requirements. The client wants to dive deep into the process and manage the team.
Solution: We provide the team according to the business goals and technical requirements. However, the client takes all responsibility for the outcome.
Rocketech is not an outstaffing agency. We partner with our clients and complement them with missing elements necessary to reach their objectives successfully. When we provide one developer as team augmentation, we also can easily assign an entire Dedicated Team within a short time.
T&M Model Benefits
No risks of infrastructure migration.
Specialists assigned to the project under a T&M contract operate in clients' environments. It's a convenient way to store and protect even the most sensitive data. Besides, we always work with strict NDAs.
Despite the common misconception that the Time and Material pricing formula is designed by dishonest vendors to "drain" money from a client, this approach provides great flexibility to control the workload and budget. We adjust to any changes in our clients' business operations and expand or reduce the team at any time with no negative impact on the project.
Finding suitable candidates is one of the biggest challenges for young startups. In an ideal world, you need a structured HR department with well-established processes. Most newly founded companies don't have a budget for it in the early stages. Under a T&M model software development agreement, clients don't spend resources on headhunting. Our recruiting system and in-house HRs help our clients quickly find strong candidates. We onboard required professionals and replace them free of charge if anything doesn't go according to the plan.
At Rocketech, we collaborate only with Middle+ and Senior level specialists. We don't train Junior employees at our partners' cost.
Highest level of expertise.
We assign developers with relevant experience in the client's niche based on specific skills, the project needs, and detailed market analysis. We revisit tech stacks and competencies if requirements change. On top of that, all our developers pass a several-stage interview and have advanced soft skills.
Whether our clients build a new team or need a particular specialist to contribute to the project on a short-time basis, we assign the required people within a week. Our partners don't need to sign contracts, look for office spaces or worry about insurance.
T&M Project Management
While the T&M pricing model takes a lot of weight off the client's shoulders, there's one aspect they need to consider before signing the contract. Along with the risks, project management becomes their full responsibility. It implies deciding who, how, and when implements the product.
Besides, having a resource boost, clients can set up their custom processes from scratch. In this case, they have total freedom to choose the tools and channels, Excel, Asana, Telegram, Slack, Jira, and Trello, just to name a few. At the same time, it means that the project managers or founders of the client company micromanage, assign tasks to developers and dive deeply into the process.
If the client doesn't have an established management process, all stakeholders will face major difficulties to organise the workflow and reach the project goals. 
In other words, to get all the model's benefits, clients must have technical specifications, project managers, product owners, or/and an existing in-house team. However, once the project grows into a full-fledged product, POs often lack resources for proper team management. In this case, we provide a smooth transition to the next level, help our clients set all internal processes, and introduce standards. 
Final Thoughts
The Time and Material software development services imply a quote for a fixed hourly rate for each specialist and the cost of essentials. The T&M contracts are a go-to option for startups where founders manage the developers and large projects that need their teams boosted.
At Rocketech, we have elaborated our approach to this pricing model based on the results of over 150 successfully completed projects. We partner with our clients to reinforce their teams and resources to succeed together. Contact us for more details.