13 January 2023
Creating digital products is no longer a prerogative of billionaire corporations. Functioning websites and mobile apps have become necessary for small businesses to survive. Moreover, launching an outstanding digital product gives startups an immediate competitive advantage.
However, hiring an in-house IT department is not an option for most small and mid-size companies. The reasonable decision is to subcontract a development services provider to delegate your project, entirely or partially. Finding your trusted tech partner and choosing the most suitable IT outsourcing model are the first steps to your idea's successful implementation.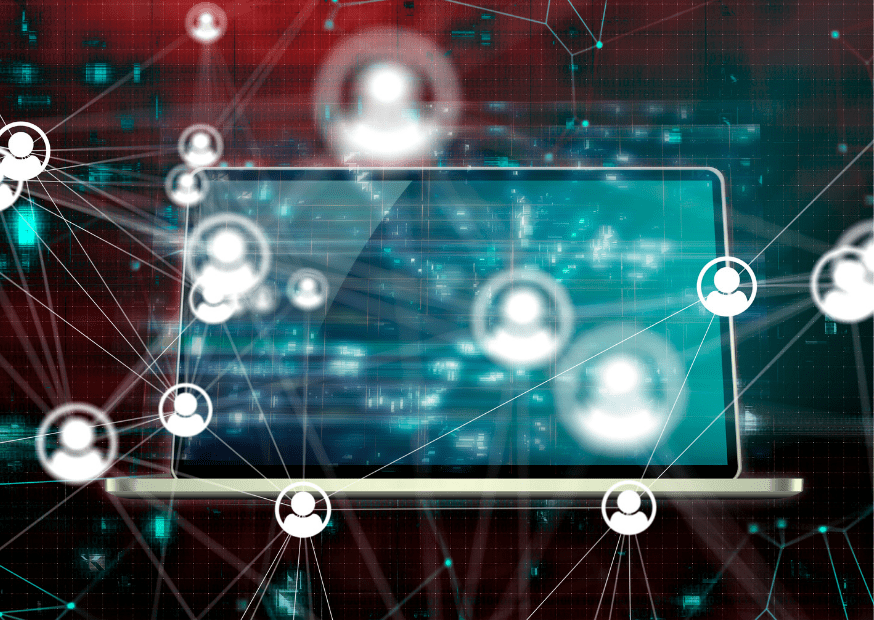 What Are the Three IT Outsourcing Models?
Delegating the new project's tech part to an external service provider typically starts with choosing an outsourcing model. There are three main types of subcontracting development services:
Time and materials (T&M)
Fixed Price
Dedicated Team
Although all three fall under IT outsourcing or IT outstaffing, they have some core differences that impact the final decision.
As the name suggests, the Time and Material (T&M) model implies a quote for a fixed hourly rate for each specialist and the cost of materials. The term comes from construction where 'M' refers to building materials. In IT, this additional cost includes equipment, software, associated licenses, hosting, etc.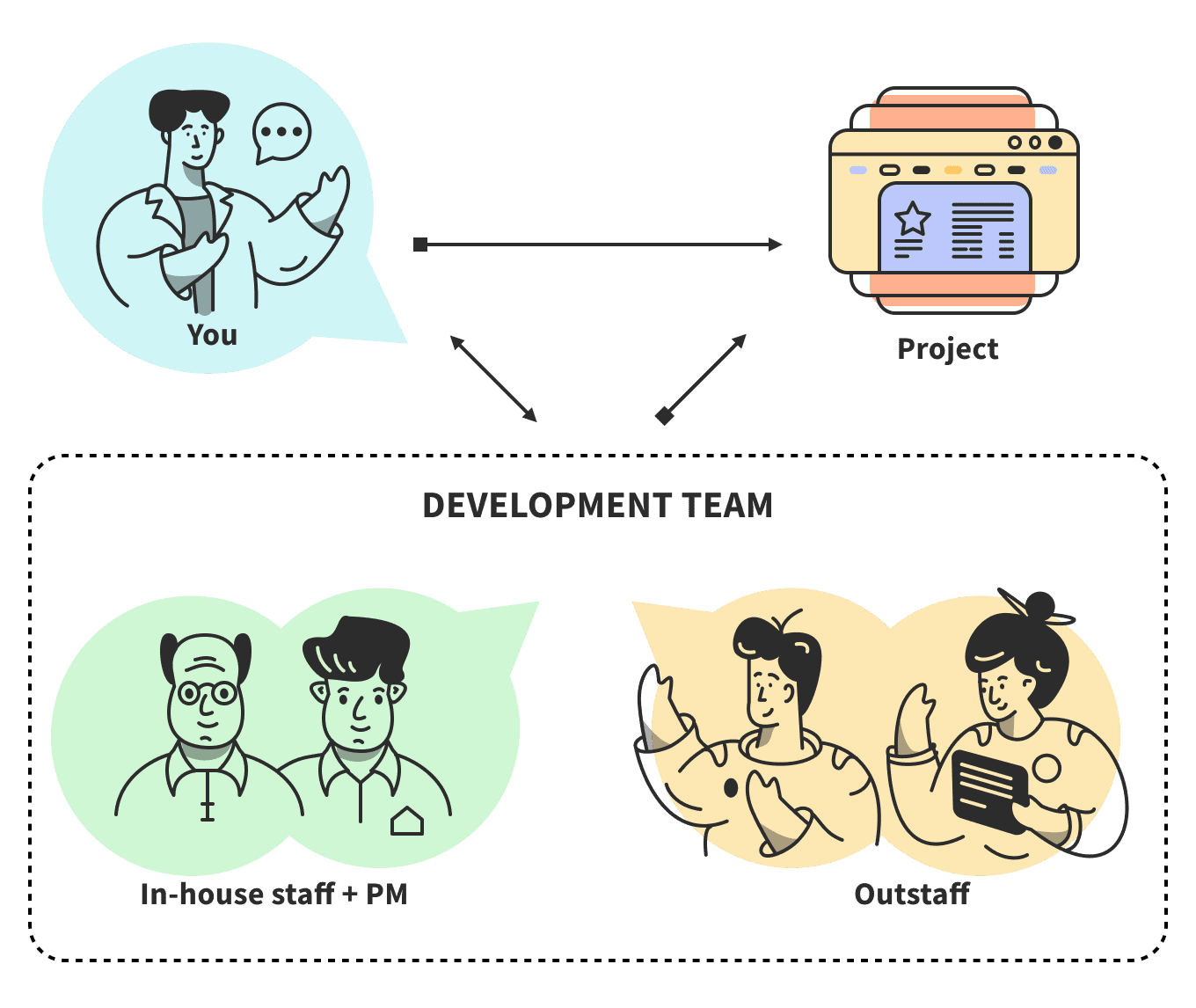 The Fixed Price model is based on a preliminary in-depth estimation of time and resources necessary for the project's successful completion according to the client's requirements. It means both parties agree and determine the timing and price before the project starts.

A Dedicated Team is formed according to the client's goals, wishes, and requirements. This approach is flexible in timing and price and easily adapts to changing conditions of large, long-term projects. 'Dedicated' means that the developers fully commit to the running project.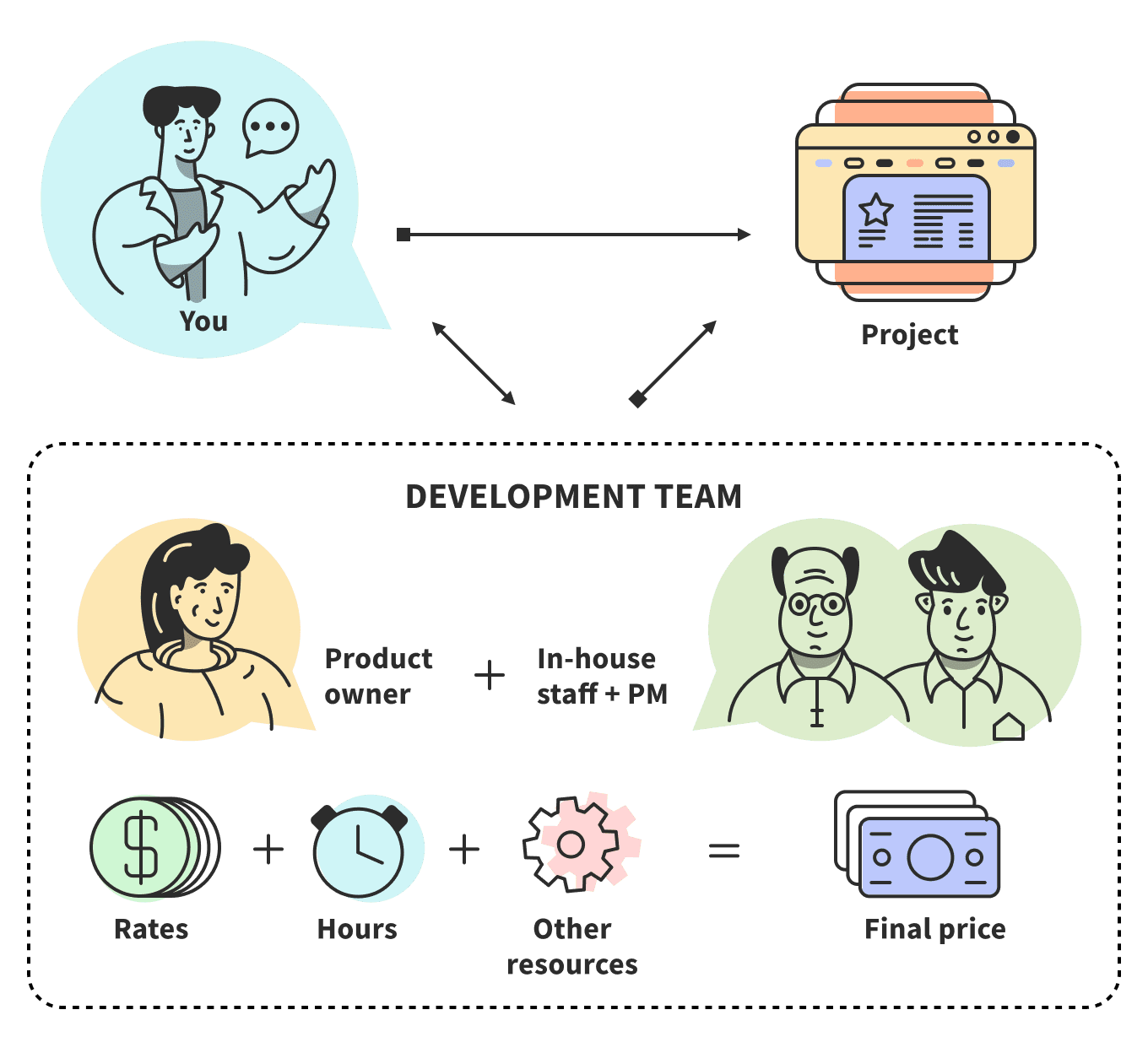 T&M: Result-Based Cost for Team Reinforcement
Generally, organizations opt for the T&M contracts to complement their existing, often in-house, teams for different reasons — from overwhelming workload to specific, infrequent tasks requiring particular expertise.
In the T&M model, the client pays for the result based on fixed labor costs and takes on all development and management risks. It also means taking responsibility for defining the product's functionality.
Companies providing the T&M contracted employees often offer help by suggesting improvements, analyzing the optimal stacks, and user needs. However, in this partnership, the client does a deep dive into the project — testing, project placement, micromanagement, and assigning tasks to developers.
T&M: Why and When?
When you already have one or more MVP versions, a clear understanding of further direction, and time for micro- and manual development management, the T&M contract will provide you with a workforce quickly and at a fair price.
When you already have a product owner, set-up processes, and a statement of requirements, the T&M partner will allocate certain specialists to finalize the product.
The model is effective when you have established processes within the product and need a fast quality development boost.
Note! The company allocating specialists on a T&M basis is fully responsible for them. However, the service provider cannot always guarantee full functionality delivery as the company doesn't take on 100% responsibility for the project outcome.
Time and Material
Fixed Price: Pre-Project Cost Estimation for Set Budgets 
A fixed-price contract is a good fit for projects with detailed terms of reference and for organizations needing preliminary project estimation — cost, deadlines, and results. Such agreements include finalizing a technical specification and imply that the outsourcing company takes on all decisions and commitments associated with the development.
When choosing a fixed-price contract, the client doesn't have to worry about building a team for the project and diving into details. The service provider decides on the resources required for the project.
With this model, the client doesn't communicate directly with the developers. Instead, the service-providing company assigns a project manager to administer the team and report to the client. Although project duration is determined individually, most fixed-price contracts are long-term — from 3 to 4 months and longer.
Fixed Price: Why and When?
The fixed-price partnership is a go-to option when you have an MVP or a running project, precise requirements, and a set budget. You look for a contractor providing all the necessary resources to complete the project along with the entire management process.
Note! The Fixed Price model is not suitable for modifying a completed project or product developed by another team and fixing legacy code.
Fixed Price
Dedicated Team: Perfect Flexibility for the Best Outcome
Hiring a dedicated team is a reasonable option for organizations having a project idea and looking for a reliable long-term IT partner with an established infrastructure and flawless internal processes. Such partnerships entail close communication between the client and each team member.
Most dedicated teams follow agile development frameworks like Scrum or Kanban to monitor and improve efficiency. They are results-driven and self-organizing. While the developers assigned to the project are self-sufficient, the client sets the priorities — what, how, and when should be done. However, decisions on key issues are made jointly. The dedicated team is also responsible for testing and project placement.
Dedicated Team: Why and When?
When you have only an idea and a product owner, a dedicated team can develop the minimum functionality as fast as possible while sharing development risks.
When you have a finished and functioning product that, however, loses to competitors, such a partnership can help you reimagine the project to meet market demands better. 
When you have a successful product that has already shown good results, a dedicated team will help you take the product to the next level — test a new direction or fine-tune the system for another market.
Note! If you want to increase functionality or budget, the project may scale up both horizontally and vertically. Additionally, the tech vendor might not be able to provide a nuanced estimate immediately. The service provider may need to run a discovery phase first to understand the project specifics.
Dedicated Team
T&M Vs. Dedicated Team Vs. Fixed Price
Here are key takeaways about each model summarized in a comparison table.
| | | | |
| --- | --- | --- | --- |
| | Time & Materials | Dedicated Team | Fixed Price |
| The Model | You need to reinforce your existing team and take all development and management risks. | You have a product idea, prefer to participate in tech decision-making, and need a tech partner with an established infrastructure to delegate the project.  | You have detailed terms of reference and clear requirements, prefer to delegate all processes, and need a definite estimation of costs, time, and results. |
| Cost Estimation | The outsourcing company allocates developers to your project for a fixed number of hours per month. You pay for the hours at the rate assigned to each specialist. | A dedicated team works on an hourly basis. The project is divided into sprints — smaller subtasks with a fixed duration and efficiency reports for the client. | The outsourcing company evaluates the project based on the terms of reference, considers the timing, resources, and risks, and proposes a fixed cost. |
| Project Functionality | You define the project functionality — who, when, and what. | A dedicated team adapts to the project needs following agile development models and adjusts project objectives according to each Sprint's results. | Product requirements are agreed upon before the project starts. Briefs and SRS describe the tasks and lay the foundation for a precise estimate. |
| Time Management | Developers join the project for a precise number of hours. | The project is divided into weekly, bi-weekly, or monthly sprints, depending on project complexity and duration. | The project stages are defined specifically for the project and according to the established methodologies of long-term projects. |
| The Key Point | An IT outstaffing model involves reactive teams, fast practices, and qualified people. | A transparent IT partner follows established methodologies and best practices and is responsible for the delivery according to the client's idea and budget. | A contract guarantees meeting the brief's requirements and delivering a thought-through and tested product within the agreed time and budget. |
T&M, Dedicated Team, and Fixed Price: Comparison
Rocketech Dedicated Team
Our Dedicated Team is more than just specialists allocated on request. It's a development approach for creating successful digital products that involves close collaboration with our Partners. Each Team is formed specifically for each project's needs. Moreover, as the project scales, our Partners can increase the Team and our involvement.
At Rocketech, we follow agile development best practices and mostly the Scrum framework. This methodology is designed to optimize all development, release, and management processes and reach maximum efficiency while keeping a happy and motivated team.
According to the 2022 16th Annual State of Agile Report, Scrum is the most dominant Agile framework — 87% of respondents favored it over other approaches.
Scrum defines three main roles in the development process:
Product Owner: maximizing product value for the customer;
Developers: observing Definition of Done (DOD) criteria and creating ready-to-use, quality products;
Scrum Master: monitoring the Team's efficiency and improving working processes and methods.
Our development process is based on transparency, close communication between the three roles, and regulated tasks and responsibilities assigned to each of them.
Each project progresses incrementally. The process is divided into Sprints that take 1 to 4 weeks. Each Sprint includes the following stages:
Product Backlog
Sprint Planning
Sprint Backlog
Sprint Review
Integrated Increment
Sprint Retrospective 
This well-coordinated approach guarantees a holistic increment to the product at the end of the Sprint. Simply put, each Sprint adds value to the product.
The Rocketech Team consists of specialists of exclusively Middle and Senior levels.
Breaking the project down into smaller iterations ensures maximum flexibility. This way, we are ready to adapt to any changes and market shifts quickly and with minimal loss for all stakeholders. Besides, we have an established management and communication methodology to increase transparency. We synchronized the tools like Jira, Confluence, Slack, Bitbucket, and Hubstaff into one flawless system successfully tested in dozens of projects.
Scrum Values
Our philosophy largely converges with the Scrum values. They define our work ethics, communication style, and goals. 
Commitment. Everybody does their best to achieve Scrum Goals.
Transparency. The Scrum Team and all involved stakeholders agree on easy access to the information regarding the working process and possible difficulties.
Focus. Every team member is focused on Sprint Goal and Product Goal.
Respect. Team members treat each other as independent and highly-skilled professionals. 
Courage. The Scrum Team does not create unnecessary functionality and takes on challenging tasks.
Another essential point of our philosophy is sharing our expertise. We are happy to consult our Partners in financial, compliance, and business-related issues and share our experience in customer development and product evaluation.
Do you have a product idea but not sure which contract will suit your project best? We can help.
Final Thoughts
Delegating the IT processes is a logical step in a company's business development. In many ways, it emerges from an inevitable transition from ready solutions to custom software. Out-of-the-box products are sufficient for some time. However, as the business grows, its goals and internal processes change. At a certain moment, any reputable company comes to realize the need and benefits of creating a proprietary product, whether a customer relationship platform or a mobile app for an existing service.
And finding a trusted tech partner to bring your product idea to life is challenging. The offers are plenty. While T&M and fixed-price contracts certainly have their benefits and fit in many projects, the dedicated team model appears the optimal solution when you need to adjust to ever-changing market needs. Due to the model's flexibility, it's multi-purpose — from small projects to enhancing an existing product to creating something big and audacious from scratch.
The recent global events have shown how essential flexibility and transparency are for staying afloat in fast-changing, highly competitive market conditions. The "new normal" requires smarter, more innovative approaches to handling business. Rocketech can help you create valuable products with a highly-skilled, professional team that works under your control. We know how to bring your idea to life. Contact us for more information.