6 January 2023
We are all used to the idea that banks are large financial institutions with obligatory physical branches where you can talk to the employees in person. Is physical presence really required though? Neobanks have turned that idea upside down. From tech support and immediate money transfers to mortgages and loans — neobanks provide all services exclusively online, through a mobile or a web application.
Neobanks.app lists 272 neobanks in the world in January 2023, including 97 in Europe, 73 in North America, and 47 in Asia-Pacific. Statista estimated challenger and neobanks global market size of nearly $47 billion in 2021.
Most statistical data reports show the growing potential of this fintech trend. The Rocketech analysts created a guide to neobanks — features, key facts, and industry leaders — all you need to know about the banking model of the future.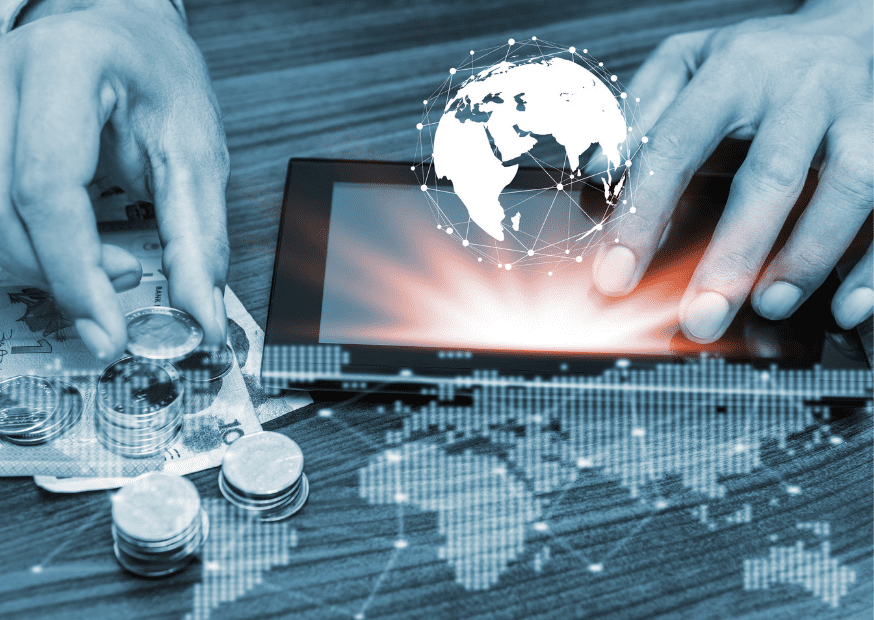 What is a Neobank?
First, we should mention that different sources have varying approaches to the two co-existing terms — a neobank and a challenger bank. Is there a difference between a neobank and a challenger bank? Some consider a fintech company a challenger bank if it has a banking license, while neobanks can operate without it. Since both terms are exclusively digital financial institutions, it's reasonable to use 'neobank' as an umbrella term compared to traditional banks.
Neobanks (digital, virtual, online, or internet-only banks) are fintech companies that offer standard banking services in an entirely digital format — through a mobile application and a website. Unlike conventional banks, neobanks have no physical branches and can operate without a banking license. 
Eventually, neobanks aim to obtain a banking license to get more freedom and flexibility. Meanwhile, another model includes operating under the license of existing banks. In this case, digital banks buy a full range of services from a licensed financial institution and sell them separately and in various combinations to clients.
Essentially, a banking institution today is a combination of three businesses:
Banking products provider
Financial transaction executor
Service provider.
Each banking product can be deconstructed down to the smallest component, and then reconstructed into new structural forms. Once a neobank provides the customers with such basic components, they can put them together according to their needs. In other words, virtual banks make the concept of set, ready-made banking products obsolete. Instead, customers receive personalized, easy-to-modify service packages.
Neobank Features
Only-digital operation is the first and underlying characteristic of neobanks. They all, however, have a similar set of features already formed by the market and customer demand.
Higher interest rates on bank deposits: Since neobanks have no branches and fewer employees, they can offer more favorable interest rates on deposits.
Simplified loan process: Neobanks use a technologically more advanced approach to credit risk assessment, which makes the process quick and easy.
Innovative financial analytics solutions: In addition to their traditional banking services, neobanks provide automated account analytics and personalized financial solutions to their users.
Enhanced user experience: Young financial startups use the latest, cutting-edge tech stacks for building their applications and base the development process on customer journeys and end-user satisfaction.
Instant services: Most online banks provide instant payments, immediate bank transfers, and 24/7 customer support.  
Another main advantage neobanks have over their traditional competitors is significantly lower service fees. Conventional banks have little room for maneuver as they cover high operating expenses. Financial institutions spend millions to open new branches. Online banks can focus on customer satisfaction without charging unreasonable service fees since they don't need to maintain physical branches and large IT departments.
Who are the Main Players?
Revolut
Total funding amount: $1.7B
Google Play: 4.8⭐
App Store: 4.7⭐
Revolut is a branchless banking service founded in 2015 by Nikolay Storonsky and Vlad Yatsenko and headquartered in London. The Revolut products include an app and a card linked to several accounts in different currencies. It means, when you pay in euros, the system deducts the payment from the corresponding account. If the funds are insufficient, you can convert currencies between accounts. Revolut also allows buying cryptocurrency and securities.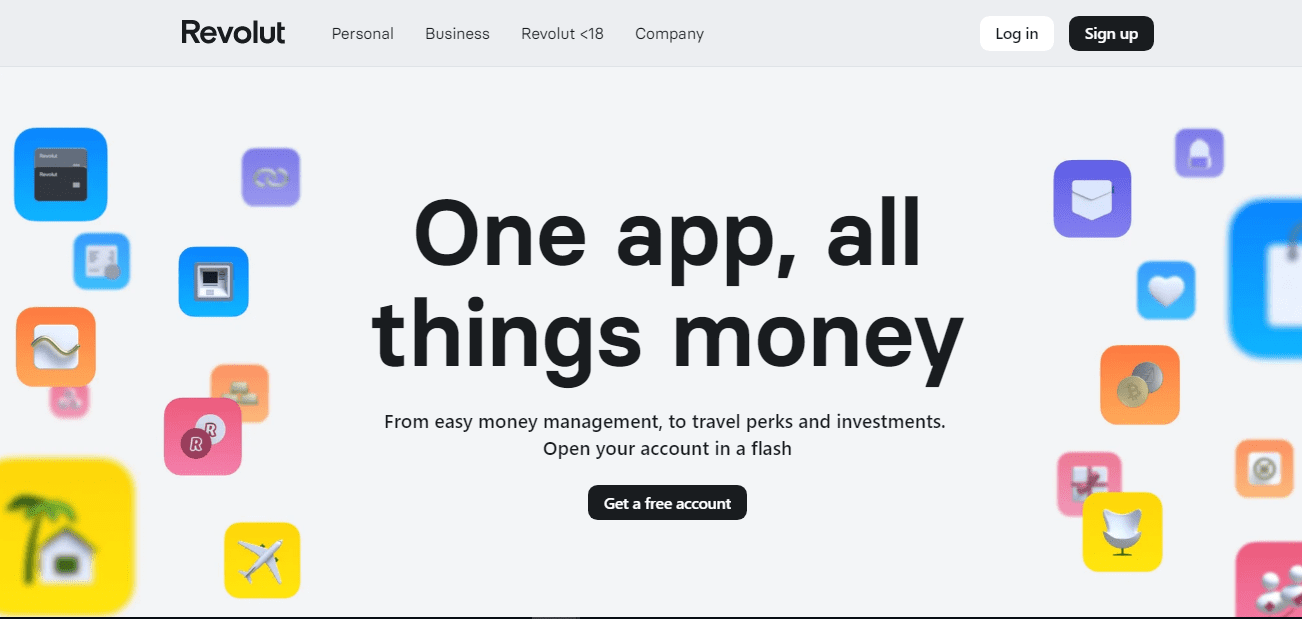 Why Do Customers Choose Revolut?
Free and fast transfers within Revolut 
Operations in 37 countries 
An option to buy cryptocurrencies 
Health insurance for clients 
Several plans, including a free one
Instant depositing
Revolut Plans
| | | | | |
| --- | --- | --- | --- | --- |
| Plan | Standard | Plus | Premium | Metal |
| Pricing | Free | €2.99/month | €7.99/month | €13.99/month |
| Features | Standard account with built-in budgeting, international money transfers | Standard upgrade: Accident protection cover, insurance, 90-day return window, ticket cancellation reimbursement | Plus upgrade: SmartDelay, faster money transfers, daily interest, Unlimited foreign exchange and ATM withdrawal boost, up to €2,500 purchase insurance | Premium upgrade: Up to 1% cashback, up to €2,500 purchase insurance, exclusive contactless Metal card |
Usability case
Revolut offers Revolut Junior accounts for children. They can track their own expenses, see their transaction history, create savings goals, and receive tasks from a parent.
N26
Total funding amount: $1.7B
Google Play: 4.3⭐
App Store: 4.6⭐
N26 is a German branchless bank headquartered in Berlin that received a full banking license from the European Central Bank in 2016. It was founded as a fintech startup by Valentin Stalf and Maximilian Tayenthal in 2013. N26 provides its services exclusively online through a web or mobile app and operates in multiple member states of the Single Euro Payments Area and the United States.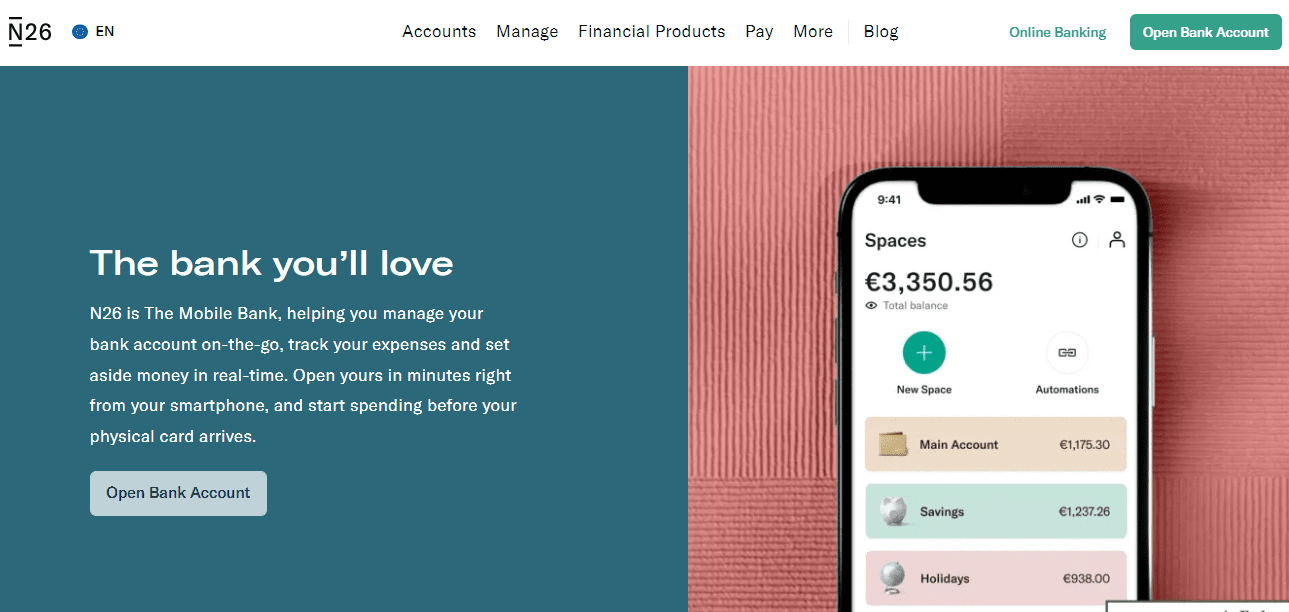 Why Do Customers Choose N26?
N26 is a fully licensed banking institution 
Free basic plan
No conversion fees + 0% for ATM withdrawals in euro
Multifunctional mobile app 
Possibility to open bank deposits (the app chooses the best offer)
N26 Plans
| | | | | |
| --- | --- | --- | --- | --- |
| Plan | N26 Standard | N26 Smart | N26 You | N26 Metal |
| Pricing | Free | €4.90/month | €9.90/month | €16.90/month |
| Features | Virtual debit card, contactless and mobile payments, free international payments, unlimited free withdrawals in the Eurozone, statistics, deposit protection, 3D secure, two-factor authentication | N26 Standard upgrade: Colorful debit card, optional extra card, free Maestro card, shared and sub-accounts, round-ups, premium partner offers   | N26 Smart upgrade: Medical travel and trip insurance, pandemic travel coverage, up to €500 flight delays compensation, luggage coverage, mobility, and winter sport insurance  | N26 You upgrade: A metal card, car rental, and phone insurance, unique experiences  |
Usability case
N26 provides the CASH26 feature. The app generates a barcode for cash withdrawals or deposits. Users can scan the code at the cash register of a partner store without making a purchase. The app shows the nearest partner store according to the user's location. 
Monobank
Total funding amount: est. $1B
Google Play: 5.0⭐
App Store: 4.9⭐
Monobank is Ukraine's first virtual bank founded by Dmitriy Dubilet, Oleg Gorokhovskyi, and Misha Rogalskiy in Kyiv in 2017. The neobank works through a smartphone app and provides its customers with a number of services, from making payments to controlling finances and getting credit cards. All operations are free of charge. Monobank operates under the banking license of Universal Bank JSC. The most popular services include cashback, installment payments, and bank loans.
Why Do Customers Choose Monobank?
An uncomplicated product with reasonable rates and a user-friendly application
Emphasis on a pleasant user experience and emotional business-customer interaction
The industry pioneer in Ukraine
Platinum cards without a number, CVV2 code, or expiration date
Apple Pay and Google Pay integration
Dynamic CVV-code
No-password online payments
Monobank Products
| | | |
| --- | --- | --- |
| Card | Type | Features |
| Black | Basic plan | The free first card, no fees |
| White | Free debit card | No credit limit |
| Foreign Exchange | Free digital card | Accounts in US dollars, euros, or Polish złoty |
| IRON card | Premium segment product with extra services | Approx. $70 for the card and an $18 fee monthly |
| Platinum card | Premium segment product | 3 designs and lowered fees, approx. $18 for the card and a $9 monthly fee  |
| Kids card | Free children's card with no fees | Designed for clients under 14 years old, parent control, no-fee cash deposits, a 0.5% cash withdrawal fee |
Usability case
Monobank app allows users to cancel some transactions like utility payments within 10 seconds after the operation.
Are Neobanks the Future?
With no burden of outdated IT infrastructures, new players have more opportunities to create modern, highly competitive banking products. The world of young businesses aspires to use more lightweight technologies and more effective development models. It helps such companies considerably reduce launch and maintenance costs and, as a result, grow faster.
Do you have an idea for a fintech product? We know how to build and launch them.
Implementing brand-new products and fresh ideas is often easier than reworking something old. The global pandemic has become a catalyst for global changes and major shifts in business thinking. Despite certain skepticism, most experts see neobanks as an inevitable and logical evolution of banking systems. And the most prominent examples confirm it.