22 May 2022
"Hello, we are from Ukraine!" This phrase began to symbolise the invincibility and fortitude of Ukrainians in the context of the Ukrainian media space. Despite the fact that Rocketech has an international team this manifesto is so named because it is dedicated to the power of the Ukrainian IT community.
Due to the Russian invasion, Ukrainian developers and IT companies are losing their foreign partners now. Many global companies, fearing risk, terminate contracts with specialists from our country. But despite the ongoing military actions, most IT people from South Ukraine and East Ukraine relocated to the safer regions of Kyiv or West Ukraine and have all the possibilities to continue their permanent work. Also, 14% of software specialists moved abroad. And there is one interesting detail. About 80% of relocated people wish to return once the fighting has stopped.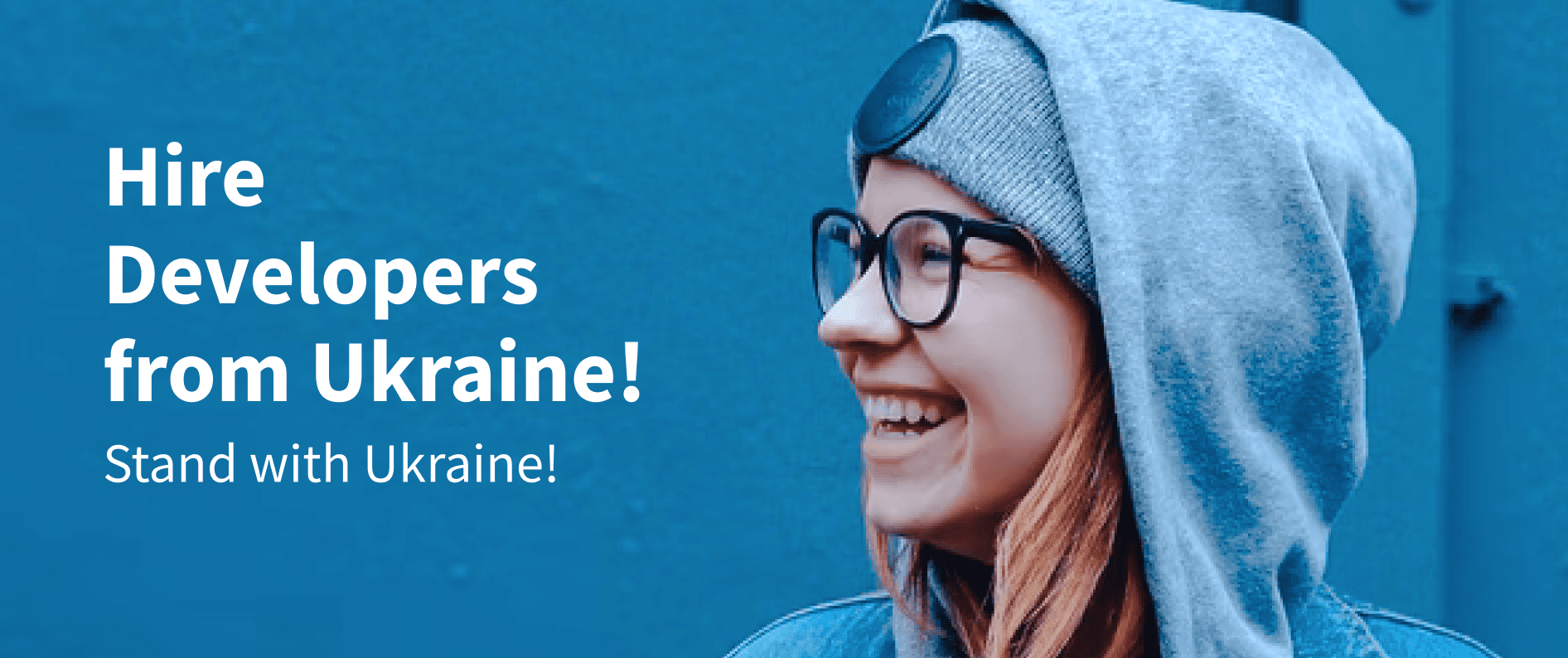 Also, foreign customers are afraid of the possible mobilisation of IT specialists. Indeed, most of the Ukrainian developers are military-aged. However, Ukrainian authorities do their utmost to prevent the mobilisation of IT people. The reason is simple: their work allows attracting a large share of foreign capital to the country's economy. IT clusters are forming in West Ukraine, so developers can work there in case of mobilisation, which has not yet been announced in Ukraine.
Since the hostilities started, the pause in the order fulfilment had occurred. However, many European and American customers prefer to work with Ukrainians, thereby making a great gesture of support in these dark times.
Thus, let's support the Ukrainian IT community and take at least a step towards support of the country's IT industry.
Find your partner from Ukraine on Clutch (button) or contact us (button, widget or form).
Advantages of Ukrainian Software Specialists
Despite the Russian invasion and ongoing hostilities on the Ukrainian territory, the country's IT market retains its potential and competitiveness due to the invariable advantages of Ukrainian IT specialists.
High Expertise
Ukraine is a long-term leader in programmers' rankings provided by top survey companies. The Pentalog 2022 Report revealed that Ukraine holds 5th place worldwide with an average test success rate of 58.17%. 
And this position shows that local developers maintain a high level of expertise. Hence, it leads to creating first-class products. 
Perfect Price-Quality Ratio
The median hourly pay is around $25–$50, while the monthly gross wage is about $1400-$3300. It makes the Ukrainian market more competitive than Romania, Moldova, Czechia and other locations in Eastern Europe. Further, the pay is substantially lower than in the EU and North America, where a skilled developer requires getting about $150000–$500000 yearly (gross). 
When talking about the income share by skill level, let's look at the IT Ukraine Association data about the yearly average wage of local developers:
Junior — $24000
Middle — $35000
Senior — $50000
Fluency in English
Another great benefit is an excellent command of English. According to Daxx, 85% of IT people in Ukraine have an Intermediate level or higher, and 50% of them have an Upper Intermediate or Advanced level.
Long Weekly Working Hours 
An average working week for Ukrainian developers lasts from 40 to 60 hours. In comparison, the American developer works 37.5 hours weekly. Further, it is much more than the German (33 h) or British (36 h) developers spend.  
There are also 11 paid national holidays, while this number in other Eastern Europe countries is 13 (like in Czechia, Poland, and Romania) or as many as 19 (in Bulgaria). 
Skyrocketing of the IT Market
By the end of 2021, this industry increased by 20—30% yearly, revealing outstanding prospects for this branch. The overall quantity of full-cycle IT businesses had reached the 5000 level by 2021. Also, around 2300 service providers and 1400 young startups are operating in this country. Further, the total IT exports were about $7 billion in 2021, adding ≈$2 billion to the 2021 figure. 
​​Since this industry is the most stable in Ukraine, experts expect positive dynamics in the current year as well (an impressive 16–25%), despite ongoing military events.
Expertise
Ukrainian specialists are hugely interested in all IT things. Over 75% of them are passionate about their tasks, and 70% see the inspiration in this industry.
And although 75% of developers have a university degree (6.3% have 2 degrees and 1.5% have a DTech), over 85% of local specialists regularly attend courses and professional seminars to improve their qualifications. It shows that Ukrainian IT people are lifelong learners.
Thus, most specialists have extensive expertise in several programming languages or domain areas and are familiar with new technologies (e.g., blockchain, cryptography, NFT, AI & deep learning, VR/AR, IoT, etc.).