23 December 2022
Running out of money is the top reason why startups fail, according to CBInsights. There are many causes why cash flow dries up — poorly managed costs, weak sales, and inability to obtain financing. 
Founders frequently underestimate the project's complexity and overestimate their ability to reach their goals with a limited budget. Meanwhile, incorrect cost estimation for software projects can turn into a fatal mistake for a startup.
How much does the software cost if you want it tailored to your specific business needs? Find some insights in our mini guide on the cost of software development.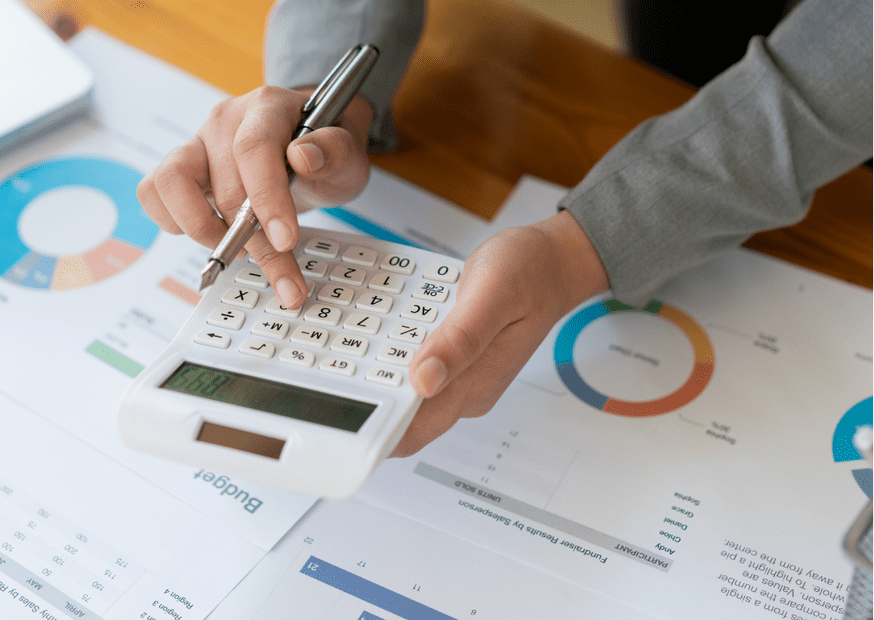 How Much Does It Cost to Create Software?
Software development is a continuous process. Successful startups invest hundreds of thousands of dollars in engineering annually. The expenses increase constantly. On the other hand, the company is attracting more investments and increasing profits by developing the offer.
However, every business starts somewhere. And to understand the cost of services, you need to understand what the service includes. Simply put, we are talking about the cost of resources needed for successful project completion — from team members' salaries to hosting and third-party components.
Is There an Average Cost of Software Development?
The short answer is no. Unless you are satisfied with the range "somewhere from 20K to infinity." Naturally, a simple small-business website and a SaaS platform with numerous integrations and complex infrastructure would fall under different definitions of an "average cost."
At Rocketech, we understand that every business is unique. Following this philosophy, we have created our approach to project estimation and pricing software development. Every project's outcome greatly depends on how the initial calculations are done — time, budget, and resource estimations.
How to Calculate Software Development Cost
The main aspect affecting the price is the client's requirements. Notably, the more accurate and clear they are, the higher the chances to cut expenses in the long run. Well-defined prerequisites significantly reduce the number of changes during the project. And fewer changes always mean fewer resources and a smaller budget, as a result.
In a typical scenario, according to the requirements, the software development service provider evaluates the project on three main aspects: size, type, and team.
Product Size
Naturally, the larger product you aim for, the more expensive it will be. Simple products have a basic feature set, relatively fast and easy to implement. More complex software requires more resources and more substantial budgets.
Typically, it's about the number of screens, pages, or modules. Some developers, for example, consider mobile apps with 25+ screens complex. No doubt, optimization and testing of an application with numerous screens and complex functions require more time and effort than a simple notes-making app or a countdown timer.
Product Complexity
Software complexity goes hand in hand with its size and directly affects software development costs. It refers to the future product's logic and includes three aspects increasing the final price.
Features
The software requires a set of complex features driven by intricate business logic rules.
Tech stack
Software is technologically sophisticated and requires specialists with rare skills, complex integrations, or non-standard approaches.
Design
Software must have custom fonts, icons, images, etc.
The following pricing chart reflects approximate and standard numbers for software development projects based on the product size.
| | |
| --- | --- |
| Size | Cost |
| Small (Minimum Viable Product) | $20,000-$100,000 |
| Medium (software for SMBs) | $50,000-$500,000 |
| Large (enterprise level, multiple integrations, geolocation, several languages, etc.) | $500,000-$1,000,000 |
Software development cost based on the product size
Product Type
There are many ways to categorize digital products. Industry-specific solutions like fintech and healthcare will have different features and business logic. However, in terms of cost estimation of software, all evaluations are made based on the development process. Namely, building a corporate website and creating a SaaS platform would require teams of different specialists using different tools.
According to the development type, approximate project budgets range from $10K to $120K. The chart, however, refers to the basic functionality of a minimum viable product.
| | |
| --- | --- |
| Type | Cost to build an MVP |
| Websites | $10,000-$30,000 |
| Web apps | $30,000-$70,000 |
| Mobile apps (React Native) | $30,000-$70,000 |
| Mobile apps (Native) | $50,000–$100,000 |
| SaaS | $60,000-$120,000 |
| CMS/CRM/ERP | $60,000-$120,000 |
Software development cost based on the product type
Team
Similarly to choosing tech stacks, the product type and size also define the team. Custom software development vendors build teams according to the unique requirements of each project. In practical terms, crypto projects get developers with hands-on experience in blockchain and fintech, marketplaces are created by specialists proficient in e-commerce, and so on.
At Rocketech, we collaborate exclusively with middle+ and senior-level specialists. Although the rates may seem higher than subcontracting separate freelancers, with our Dedicated Teams, our clients get established operational processes, experienced professionals, and after-launch product support and maintenance.
Besides the product's functionality and complexity, several external factors also affect the cost of creating the application. For example, software development services prices vary depending on the region. For example, outsourcing an IT project to Eastern Europe may significantly save the budget.
The final cost depends on an hourly rate, the number of specialists, their field expertise, and experience. Flexible tech vendors offer contracts allowing them to expand or reduce the team at any time.
The following chart shows the principle of calculating the cost of services of a Dedicated Team for Web Development + React Native.
Position
Experience
$/hour
Budget (h/week)
Budget ($/week)
Frontend Senior Engineer
9 years
$47.00
40.00 h
$1,880.00
Backend Senior Engineer
9 years
$47.00
40.00 h
$1,880.00
React Native Senior Engineer
9 years
$47.00
40.00 h
$1,880.00
Business Analyst
9 years
$38.00
18.00 h
$684.00
Scrum Master
6 years
$38.00
10.00 h
$380.00
UX/UI Designer
9 years
$35.00
10.00 h
$350.00
DevOps
9 years
$44.00
2.00 h
$88.00
QA Engineer
5 years
$32.00
15.00 h
$480.00
Total for the week:
$7,622.00 
Total for the month:
$30,488.00 
The principle of calculating the cost of a dedicated development team
How Much Does It Cost to Develop a Software Product?
Software development is much more than just the programming and coding approaches used to meet requirements. Thorough analysis, market research, and maintenance are also crucial elements in building and launching a successful digital product to market. Your goal is to choose a trustworthy tech partner that can provide skilled people throughout the software lifecycle.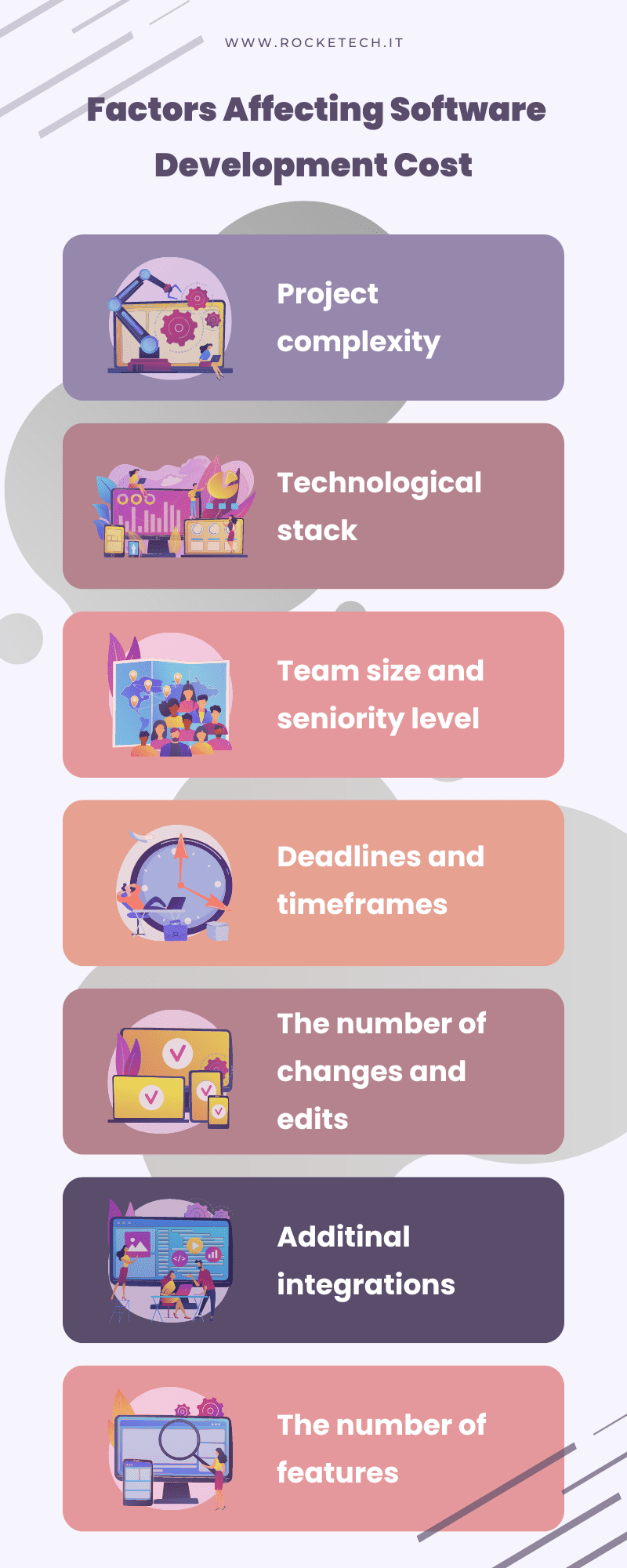 A software product price includes experienced UI/UX designers to create user-friendly interfaces, developers to make your requirements a reality, and quality assurance (QA) specialists to fix bugs in the application. Your chosen tech provider ideally should also provide post-launch maintenance and further updates.
Large projects can be challenging to estimate. The agile approach to software development implies relative estimation techniques, including swimlane sizing and planning poker, based on the team's experience and providing more flexibility and better results.
There are different ways to estimate software development costs. Experienced providers start communication with the client with a discovery phase,  allowing both sides to agree on requirements, what is needed to meet them, and, as a result, the price. In other words, it's a working instrument that helps avoid many estimation mistakes.
Cost Estimation for Software Development Done by Experts
Software development is not simply X number of hours spent by separate programmers on writing code. It's a complex process involving numerous variables and several expertise domains. Incorrect budget estimations may cost you the business in the end.
Get an estimate for your project.
A well-established system and the experience of our specialists across fifteen domain allows us to make informed decisions and realistic estimates. It minimizes misunderstandings and helps us build successful long-term partnerships with our clients. Contact us for more information.